EVENTS
2023 Summit of the North American Nature Photography Association (NANPA)
BreakOut Session - Capture the Full Story: Make Your Nature Images Valuable to Science!
I'm excited to have been selected to present this session twice during the Summit, sharing my collaborations with fellow zoologists and those working in community-based conservation over the years. The 90-minute presentation, with behind-the-scenes stories, Q&A and some fun group-work within the audience, will give photographers working at all levels new ideas with which they can leverage to establish relationships with scientists, access compelling images and add value to conservation work. I want to encourage nature photographers to think holistically about the potential for their work, giving them tools and strategies to invoke collaborations, connect ideas, educate & inspire. It's going to be a great few days in the Sonoran desert and I look forward to meeting attendees. Click here for more information on the event.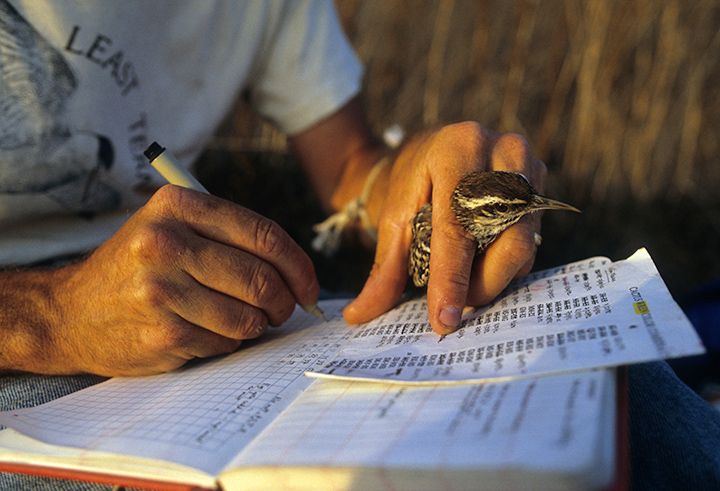 Preview: The Coastal Cactus Wren
Here is one image from the presentation. This is the California coastal variant of the Cactus Wren (Campylorhynchus brunneicapillus), Arizona's state bird. Those who enjoy birds know that the cactus wren displays great curiosity in their behavior. When nesting season comes, the males will actually build a second decoy or "dummy" nest to help protect their young from predators.
I photographed this bird moments after it was captured in a fine mist-net during a study of the species on southern California's Palos Verdes peninsula. It was released back into the coastal sage scrub after it was sexed and measured.
When I noticed it appeared to be "checking the notes" of Dr. Jonathan Atwood (known for his work with another species featured on his T-shirt), I knew this would make a great working portrait of the ornithologist. Dr. Atwood appreciates the image because it not only memorialized his research - which led to protection for the coastal population of the wren - but also captured the bird's distinctive "personality."